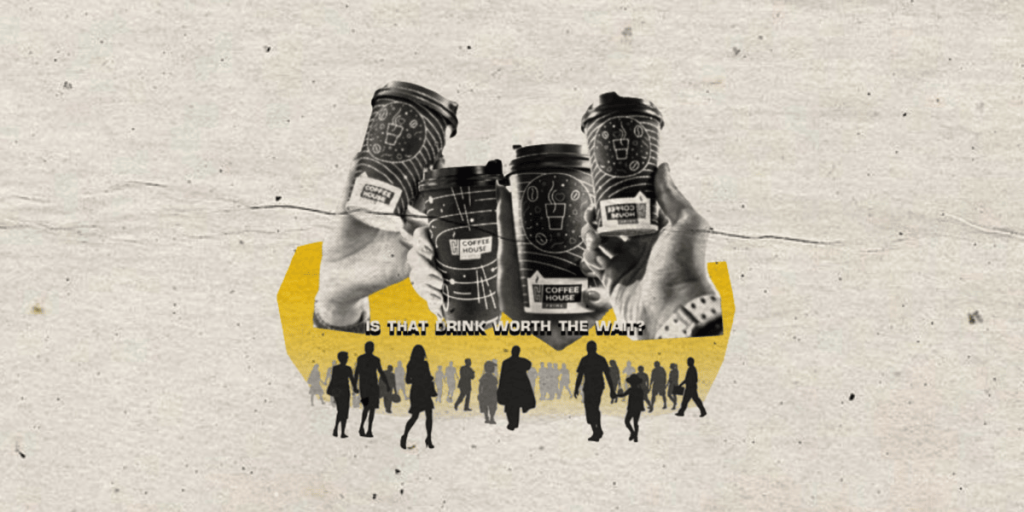 While Coffee House's branches continue to increase, the business profits by serving quick and mediocre drinks. Established in 2015 as a small business, Coffee House now has 29 branches in Armenia and identifies itself as the country's first and largest takeaway network.
Many AUA students love coffee and sweet drinks because it helps them get through extensive work or university hours. Students need more choices when it comes to food and beverages. Green Bean is the most expensive choice for its goods and services of quality. The cafeteria's coffee and pastries section ranks second-best in terms of quality of service and price. Thus, the cheapest alternative remains the renowned Coffee House.
Having a Coffee House next to the university comes with huge crowds of people waiting for their orders. This scene occurs early in the morning before class and even by the end of the working day. The peak hours are around noon when it takes approximately 20 minutes to get one's order.
The music can be very loud, so people often miss the call and wait longer than expected.
The business goes by the slogan "Love and coffee in one cup." But many would disagree. Romela Harutyunyan, EC junior, was a regular customer at Coffee House, like many AUA students, until recently. She usually buys coffee three times a week. "I get my drink when I don't have time to eat something or feel tired during the day," she says.
Not only do people impatiently wait for their coffee, but many are very disappointed with their orders. "My regular drink was warm coffee with peanut butter, but I realized that the employees at Coffee House don't prepare it well," said Romela. While the employees attempt to deliver the orders in a timely manner, the customers suffer the consequences: poor-quality drinks.
Romela observed that the employees skip specific steps of the preparation process, so the outcomes end up awful. The most noticeable flaw is that drinks, especially flavored ones, aren't mixed. Thus, "the coffee tastes like sweet water," she added.
An obvious reason for this issue is that only some employees change shifts between taking orders, preparing drinks, and delivering them as they run against time to satisfy their customers.
Another regular customer, Mayis Jraghatspanyan, BAB junior, also visits Coffee House with his peers. Apart from the (relatively) inexpensive prices, he likes that the business offers the option to customize the order based on the preferred size and flavor of the customer's choice, which can be limited in other coffee shops.
Like Romela, Mayis also dislikes the queues that once delayed the delivery of his order by 40 minutes. "Looking at the preparation process at Coffee House, it takes 30 seconds to deliver my drink," he claimed. His drink consists of a small MacCoffee package and warm water.
Although Coffee House is a takeaway coffee business, Mayis suggests increasing the space, allowing more employees to work to improve the drinks' quality rather than giving customers half-prepared coffee. Also, while considering opening up the space, the business managers could consider placing some tables and chairs for customers to wait for their orders or have coffee talks with their friends.
If this is the monopoly of coffee and drinks around AUA, then the coffee business should definitely consider people's complaints about their poor quality service. Moreover, as Coffee House continues to profit from tired and probably unemployed students who survive on coffee, the least they can do is think about making improvements if they aim to keep their customers for the long run.