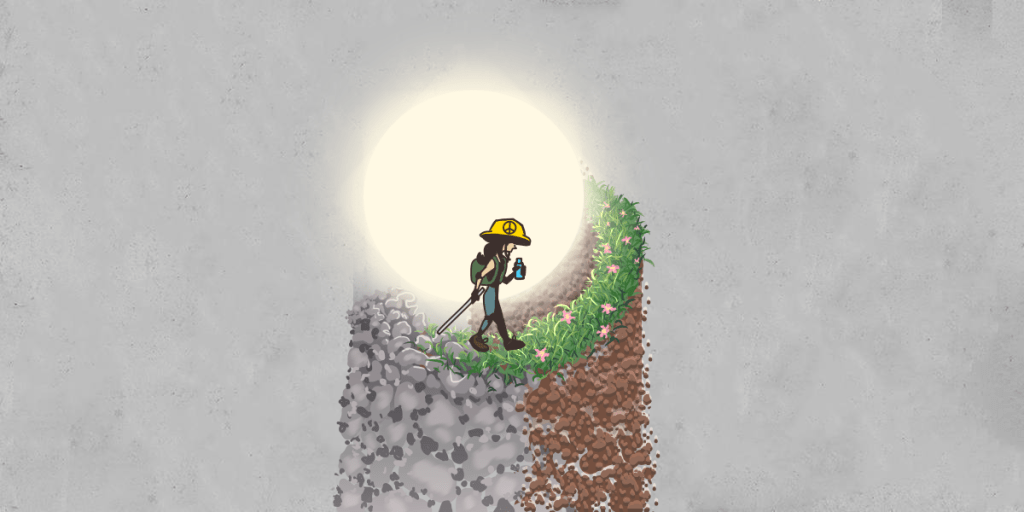 The endless noise of the streets, dirty air and overwhelming crowds can be replaced with the mild wind, fresh air and colorful shades of nature in the mountains. To escape from chaos, you can grab your bag and go hiking.
A professional hiker, Davit Davtyan, head of the hiking group Chanaparhord, met his first love—the mountains, 13 years ago when he hiked to Amberd with his friends. At first, hiking was an activity to spend leisure time with friends and detach from ordinary life. However, over time, a hobby became a lifestyle that is now an integral part of his life. Davit already loved mountains in his student years because his grandfather sowed the seeds of hiking in him from a young age.
Davit highlights that only unstoppable love toward nature and country could make him fall in love with hiking and form their hiking group. Over the years, his experience and ability to unite many people around the same idea enlarged his hiking team. It proved that love of nature and mountains is infectious as more people become fond of mountains. Davit notes that hiking is "creative work," and their job is to explore extraordinary and new spots that people did not visit before. Only discovering new places can keep the concept of hiking alive.
Davit already has long experience and states that being a group leader presents many difficulties. The spark of leading comes from deep inside the heart, as he considers. Besides having a huge love for nature and country, hiking leaders should possess other crucial features, including being responsible and disciplined to guide the team properly.
Confidence also plays a vital role because people see that the guide believes in his capabilities and participants will feel safe with him. Even in emergencies, the leader should have a calm mind to solve all problems. Moreover, being knowledgeable and having information from various fields can make the hiking process more enjoyable and helpful.
Another professional hiking guide, Norik Hakobyan from Armenian Discovery, who lives and breathes hiking, adds that a guide should understand participants' psychology to manage the group effectively. Only after harmonizing people with nature can hiking be successful.
"When you enter the territory of nature, you have to obey its rules and if you try to do the opposite, then the idea of hiking will be depreciated," Norik notes. Hikers should emotionally be ready to face difficulties while walking in mud, rain and cold. If they realize that they can encounter many unpredictable situations that nature prepares for them before starting to hike, then it will be easy to cross difficult paths.
He pinpoints that apart from emotional preparation, hikers should have the necessary outfit and items in their backpacks as the latter is their best friend, without which hikers are their own enemy. Choosing the wrong hiking gear and being half-prepared makes walking hard because people concentrate more on secondary things and lose the opportunity to enjoy the process.
The potential of hiking in Armenia is immense as our country is surrounded by marvelous mountains and nature that cannot let anyone indifferent, including tourists. The flow of tourists has increased in the country, contributing to the increase of foreign hiking participants. Norik mentions that 30% of his hiking group recently consists of representatives from different countries. They are fascinated by the Armenian mountains, which motivates tourists to hike regularly every week.
Norik highlights the importance of comparing hiking in our country with other ones. Observing the image of global hiking helps to notice details and learn from other nationalities. Adopting some features is one of the best options to develop hiking in Armenia and raise its level. No matter nationality, hiking connects everyone around one idea and worldview. "If people start hiking, there will be no war in the world," Norik mentions. He adds that people can better understand each other as they will feel a strong bond with nature and human lives will matter more.
Hiking is the best teacher, inspiring people to value life more and deal with different emotions. In general, hikers form deep connections with nature, which helps them find balance in themselves. According to Norik, hiking helps to appreciate the beauty in life. It is not just taking a step and going toward one destination. Hiking contains many deep layers that help people feel closer to nature and live harmoniously with everything around them. Being in nature, people learn how to overcome fears that they tend to ignore in daily life.
In the embrace of nature, people overcome their fears, weak spots and perceive themselves from another perspective. Ultimately, hikers discover themselves, others, nature and life itself.